It's been a long time. Just wanna write…random thoughts, i guess.
Firstly
I'm a night owl…so that means my best work, ideas & inspiration don't come until about 8-9pm. I get this burst of energy and creativity around 8pm…i get in the zone where I don't wanna be interrupted around midnight and I'm good till somewhere b/w 3 & 5am when I'm ready to crash.
I've been trying for the past 3 weeks to reverse my internal clock and make my most productive hrs the same as most normal citizens in our lovely country…9am-5pm…i don't know if i'll ever get there. Right now, it's not lookin' too good. Any suggestions?
nOtW
On another note, there's this cool clothing company that's out…matter fact, I'm wearing one of their hoodies right now. The brand is called NOTW (Not of This World)…check 'em out…buy their stuff…they rock…http://www.c28.com/?adid=st&iid=43287 or click the image above.
While looking for their website to give to you all, I said I might as well join the street team since I just plugged them in my blog. See what happens when you're up @ 2:52am!
Topic 3: Life Changing…
I had a life changing convo w/ a homey/mentor/big sis/friend person this week. I hope she reads this so she knows how much I appreciate her (and so she knows I consider her all those things).
Anyway, it wasn't like she said anything I'd never thought or heard of, but i guess…it's kinda like, you know how you go to church & you can hear the pastor preach a sermon you've been hearing since you were 5, but @ age 28 when you hear it, it just clicks? It was like that.
Anyway, she said just what I needed to hear. And now, "I'm focused man, you should know this man!"  Thanks, to my homeymentorbigsisfriend! :)
My Two Guilty Pleasures!
So, two of my most favorite things right now are
Exhibit A: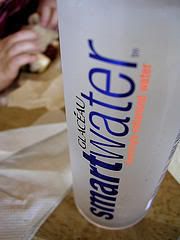 Smart Water!! Love it! (& I thought Vitamin water was an expensive habit…well it still is)
And Exhibit B:
Kimora Lee Simmons: Life in the Fab Lane.
As a matter of fact, my latest episode just finished downloading on itunes!! :)
Gotta talk Music!!!
I'll make this straight & to the point…hit up PJ Morton's mypspace page (myspace.com/pjmorton) and buy his "luap notrom" album
The song(s) that…
gets where my head is right now: Ayiesha Woods "Big Enough"…check it out @ myspace.com/ayieshawoods
I listen to on repeat & dont get tired of: PJ Morton "third degree," Myron Butler "here with me" &  Jennifer Lopez "Do it Well" (random, I know)
keeps me motivated while working out: Beyonce "Get Me Bodied (extended version)"
I love to blast while I'm driving: Myron Butler "I Live," Da T.R.U.T.H. "I Need You," & J.R. "Not a Slave" (coming soon to the myspace community!)
Other records u need (in no particular order)…
* Marvin Sapp – Thirsty
*Kanye West – Graduation
*Ledisi – Lost & Found
*Hillsong – Savior King
*Casting Crowns – The Altar and the Door
Also, look out for big things poppin' off in this last quarter of '07 from J.R., crossmovement records RnB dude…I'll keep u posted on his happenings. New myspace page & single coming real soon to the Internet community!
Can I have 30 more seconds?…
I hope I kept your attention w/ my long, random blog…i really have nothing else to say right now. I'm an addict…so I'm taking a break to pray.

I'll be back Monday.
-Kd